Yossi & Oded
Choreographers Yossi Berg and Oded Graf started collaborating in 2005, and they have since built a reputation for work that is supremely physical, sometimes provocative, and by turns poignant and witty. Having performed with world-renowned troupes ranging from Batsheva Dance Company and DV8 Physical Theatre to others, they mix their masterful physicality with their dynamic research of theater, text, and voice. Responding to the social and political realities of contemporary life, the choreographers propose onstage alternatives laced with a disarming humor that surprises audiences, inspires deeper reflection, and offers hope.
Yossi and Oded's singular brand of artistry has launched them to the forefront of Israel's vibrant dance scene and placed them prominently on the world stage. The choreographers maintain a strong presence in Israel as well as their second home base of Denmark, and they also work frequently in other countries. Besides performing regularly at the Suzanne Dellal Centre and other venues in Israel, they have toured their works to prestigious festivals and theaters including Montpellier Danse France, American Dance Festival the U.S., Madrid En Danza Spain, Dansens Hus and Stockholm's Kultur Festival Sweden, The Place Theater London, Lausanne Danse Switzerland, Belgrade Dance Festival Serbia, TanzTage Berlin, TANZ Bremen, Lipsiusbau Museum Germany, The Joyce Theater and La MaMa Theater New York City, White Bird Dance Portland, The Museum of Contemporary Art of Rome Italy, Israel Museum Jerusalem, SIDance South Korea, JCDN Japan, to name but a few.
Moreover, their works have been performed in additional venues in Canada, China, Croatia, Cyprus, the Czech Republic, Denmark, the Dominican Republic, Finland, France, Germany, Greece, Italy, Japan, Latvia, Lithuania, Luxembourg, the Netherlands, Norway, Peru, Poland, Portugal, Romania, Russia, Serbia, Slovakia, Slovenia, South Korea, Spain, Sweden, Switzerland, Taiwan, the U.K., and the U.S.
In addition to touring their productions, Yossi and Oded have also been invited as guest choreographers to either stage or create new works for opera houses and dance companies across the globe. Their choreography has been included in the repertory of prominent troupes including Batsheva Ensemble Company / Muza Dance Company in Israel; Donlon Dance Company / StaatsTheater Saarbrücken, TanzTheater Osnabruck, StaatstTeater Braunschweig, and StaatsTheater Kassel in Germany; Introdans in Holland; Tanzkompagnie Theater St.Gallen in Switzerland; Company E in the U.S.; Aura Dance Company in Lithuania; Polish Dance Theater in Poland; Belgrade Drama Theater in Serbia; TND Company in Spain; Norrdans Company in Sweden; Baerum Kulturhus Copmany in Norway; and Junior Company in Denmark.  The choreographers also teach and lead workshops in contemporary dance and improvisation throughout the world, drawing on their research of being present and partnering; and regularly create at universities such as: Emory University the U.S., Simon Fraser University Canada, Seoul University Of The Arts South Korea, Dansehallerne Denmark, Moga studio Japan, Trois cl Luxembourg, Tseh Moscow Festival Russia, Teatro Comunale di Ferrara Italy, The Jerusalem Academy of Music and Dance Israel, Maslool Professional Dance Program in TLV, Kibbutzim College of Education, Ben Gurion University, Masa at Kibbutz Ga'aton, to name but a few.
Yossi and Oded's compelling choreography has garnered them numerous honors at home and abroad. They have received special grants from the Ballet Master Albert Gaubier's Foundation and the Kunstrads Scenekunstudvalg Denmark, the Schusterman Foundation the U.S., The America-Israel Cultural Foundation, Teva Foundation, Bistrizki Foundation, Rabinovich Foundation, Tel Aviv Municipality, Lottery Foundation, and many others. The pair's creations won the first prize in international choreography competitions in Germany (Hanover), Spain (Burgos-New York), Denmark (Dansolution), and Poland (Serge Diaghilev). Their full evening works were nominated by critics for the best dance events in Israel: Heroes (2007), Bodyland (2014), Come Jump With Me (2016). In 2008 the European Ballet Tanz magazine hailed them as "choreographers to watch". Yossi and Oded were Aerowaves artists; received Israel's Ministry of Culture Award for Outstanding Choreographers; and in 2016 were awarded the Rosenblum Prize for Artistic Excellence in the Performing Arts. They have also participated in prestigious artist-in-residence programs including: Movement Research at Judson Church in New York, the Artist Village in Taipei, STRUT Dance in Australia, Tanzplan in Germany, Iris Garland Visiting Artists in Canada, Gabirol residency program in Tel aviv, and their work has been co-produced by such venues as HELLERAU-European Centre for Arts,Palucca, and the Dresden SemperOper in Germany.
The choreographers' rich repertory includes the works Come Jump With Me; Bodyland; Black Fairytale; Forest; Eleven; Animal Lost; 4 Men Alice Bach and the Deer; Heroes; Most of the Day I'm Out; Bloody Disco; The Picnic; Wo-man in Tomatoes; Mechanical Trio in a Hot Country; Bear-girl King; Fairytale Goes Bad; My Space; Optic; Heaven or Tel Aviv; Untitled; Roots, and others.
Yossi Berg
Yossi Berg has worked with DV8 Physical Theatre in London, Australia, and Hong Kong, Batsheva Dance Company (where he worked with choreographers such as Ohad Naharin, Jiří Kylián, Angelin Preljocaj, John Jasperse, and Iztok Kovac over a six-year period), Yasmeen Godder's company, and others.  Starting in 1996, his works were commissioned for the Curtain Up/International Exposure festivals at the Suzanne Dellal Centre in Tel Aviv and by various theaters throughout Israel and Europe. He was honored with Israel's Ministry of Culture Award for Outstanding Choreographer in 2001, 2004, and 2006, and he received the ministry's prize for Best Solo Artist Performer in 2003. A receipt of Tanzweb Austria 2002. Between 2000-2005 he taught & created at Vitzo high school of art, Haguf Physical Theatre acting school, and various educational institutions in Israel. He was also a rehearsal director for the Batsheva Ensemble Company, and director in a video dance project of Matan Institute. He studied reflexology and holistic integrative body treatment based on Ida Rolf`s Structural Integration and The Trager Approach.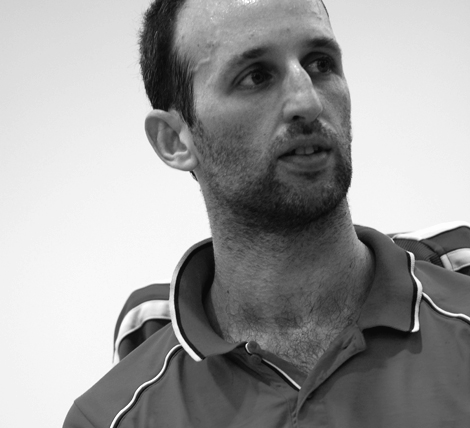 Oded Graf
Oded Graf has worked with the Kibbutz Contemporary Dance Company, Noa Dar Dance Company, and different independent Israeli and international productions. He started his choreographic career while moving between Denmark and Israel, and his dances were commissioned by the Israel Festival in Jerusalem, the Lab Theater, Curtain Up/International Exposure festivals, Tmuna Theater, and many other venues throughout Israel. Artistic director for `Machol Shalem Dance Festival` 2014. He graduated with honors a B.A degree in communication at the Open University of Israel.